Note: All images, unless otherwise noted, show data from the Best Stocks Now database.
For "Income Investors" looking for an additional name to complement a portfolio of High Yelding REITs or the "Growth Investor" screening for sustainable YoY EPS Growth, CoStar Group is a company worthy of consideration.
CoStar provides information, analytics, and online marketplaces to the commercial/rental real estate industry in the United States and the United Kingdom. As the leader in the space, CSGP continues to fuel organic growth through acquisitions. Just last week, CoStar announced the $450 million cash acquisition of STR, a global leader in benchmarking & analytics for the Hospitality Industry.
History tells us that growth via acquisition is often "unsustainable", because transactions become less and less accretive to the original business. On the contrary, CoStar Group continues an excellent track record of selecting, integrating, and growing their targeted business investments.
CSGP's acquisition strategy has led to an EPS CAGR of almost 73% over the last three years. For the foreseeable future, quarterly earnings calls will surely be riddled with analysts' questions on how STR is being integrated into CoStar's portfolio. If past acquisitions are any indication, analysts and investors will like what they hear.
There is no better example of CoStar's knack for accretive transactions than their purchase of Apartments.com, five years ago. At the time of purchase (2014), Apartments.com had annual revenue of $86MM. As of 2Q 2019, the Apartments.com business unit had TTM revenues of $500MM (a CAGR of 40%) and three consecutive quarters of record sales. Benefiting from the continuing increase of new supply in the "multifamily apartment" sector, 70% of new units built in the last two years are advertising with Apartments.com.
In June of 2019, CSGP purchased Off Campus Partners LLC, a leading online market place for student housing in the United States. Seen as a complement to Apartments.com, the purchase provides CoStar with exposure to 17MM college students in need of housing.
As the prospects for "sustainable" EPS Growth continue to blossom for CoStar, so does my Best Stocks Now! App Ranking for CSGP shares.
As my previous readers know, my Best Stocks Now rankings blend Fundamental and Momentum analysis. I assign a weighting to factors across both disciplines and those stocks scoring the highest make up the upper echelon of my rankings.
Historically as an industry, financial analysts have looked at Fundamental and Momentum characteristics of stocks in a vacuum. In my 22+ years of experience, I have found that incorporating both into my models allows me to better avoid "value traps" and "high fliers" with great charts, but no earnings to back them up.
CoStar Group continues to climb up my Best Stocks Now rankings over the last year and currently sits at 293 out of 5360 securities included in my app. 12-months ago, CSGP was at #1332 and sat as high as #5 within the last two months. In March of 2019 I purchased CoStar in my Ultra Growth Portfolio (position is up +30%) and also added it to my Premier Growth Portfolio in August of this year.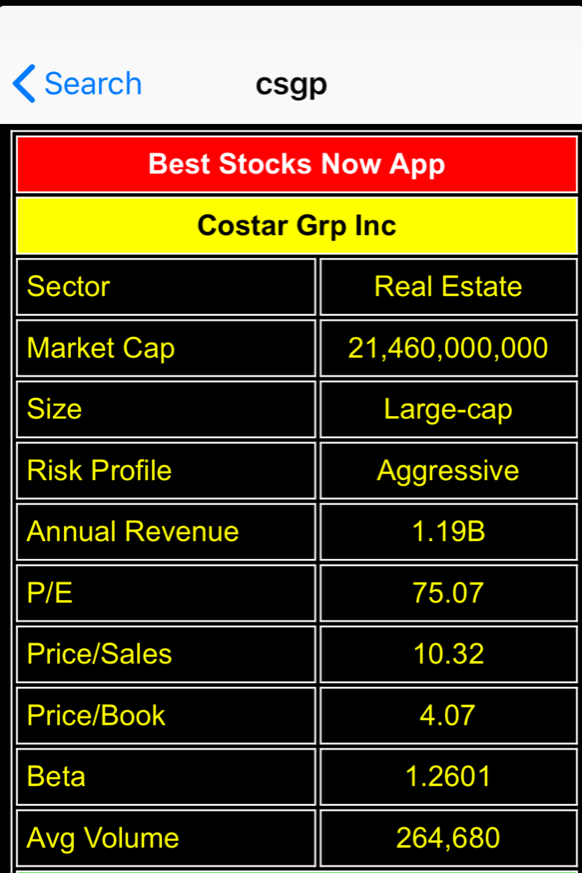 From a "valuation" perspective, a P/E Ratio at 75+ can seem daunting. However, one can easily argue CoStar's sustained 5 and 3-year EPS Growth Rates of 30% and 72% (respectively) warrant a high (if not higher) valuation. CoStar continues to widen its "economic moat" across all business units.
In addition to the potential synergies Apartments.com and Off Campus Partners display, the CoStar and LoopNet offerings boast the largest audience of brokers and commercial real estate listings in the space. The CoStar Suite has 150,000 "individual subscribers". Reoccurring "subscription-based" revenue accounts for 82% of all revenue, and these revenues grew by 25% over the TTM.
The high percentage of CSGP's overall revenue coming from a subscription-based model provides good visibility for future revenue growth and analyst estimates of a $2 increase in EPS in 2020. At the current multiple of 75, the estimated increase in 2020 EPS would equate to a $150 increase in share price.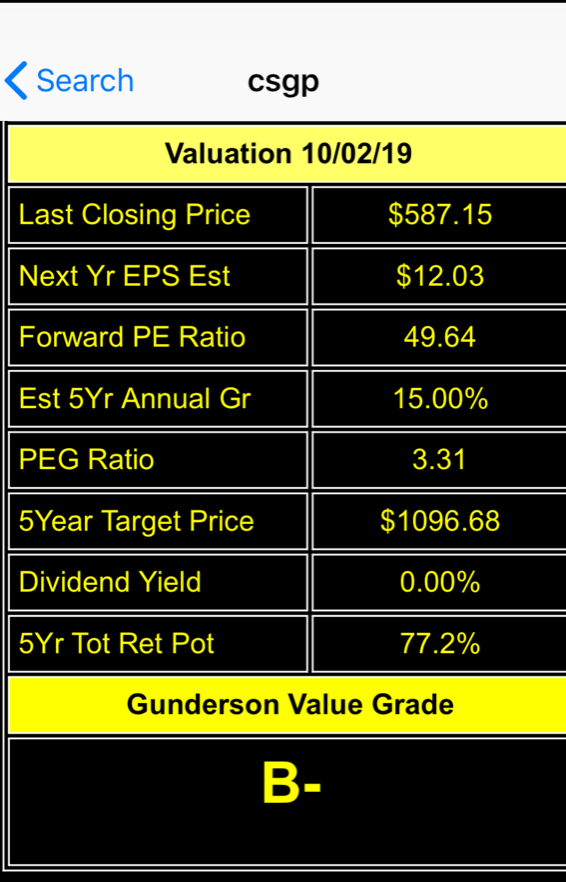 One large tailwind for growth and source of competitive advantage for CoStar is their sound Balance Sheet. CSGP carries $0 (that's zero) Long-Term Debt on their books. The most recent acquisition of STR was done via cash ($450MM) and CoStar has another $850MM in cash remaining as "dry powder" to fuel future growth.
Contrast this with debt burdened RentPath, one of CoStar's largest direct competitors. RentPath has almost $500MM in debt, resulting in tens of millions in annaul interest payments. This debt burden has inhibited RentPath's ability to invest in future technologies, further widening the "economic moat" enjoyed by CoStar Group.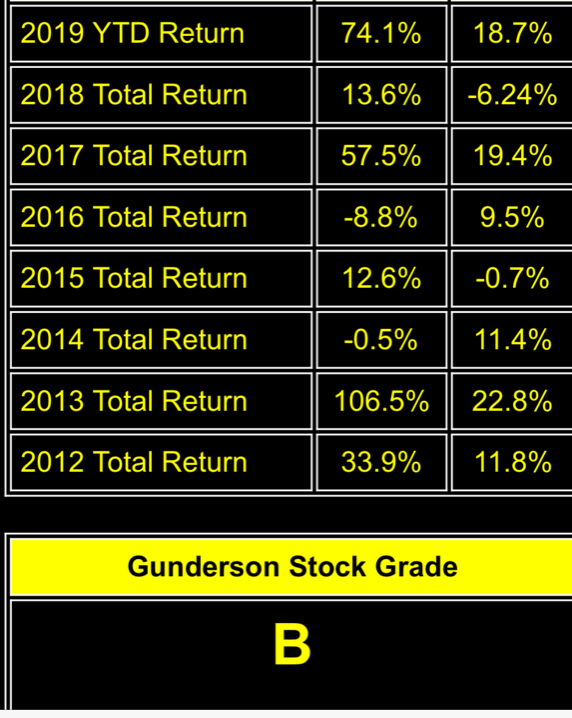 As mentioned earlier in the article, "Momentum" also plays heavily into my Best Stocks Now rankings. Since 2012, CoStar has vastly outperformed the S&P 500 in 6 of 8 years. Annually averaging 28.4% more than the S&P 500 over the last three years (39.5% to 11.1%) makes it an Alpha generating addition to any portfolio.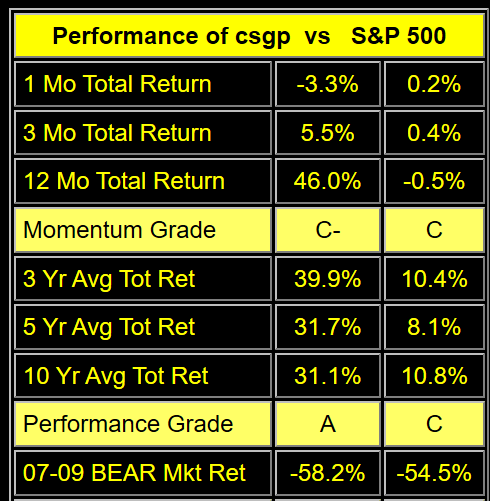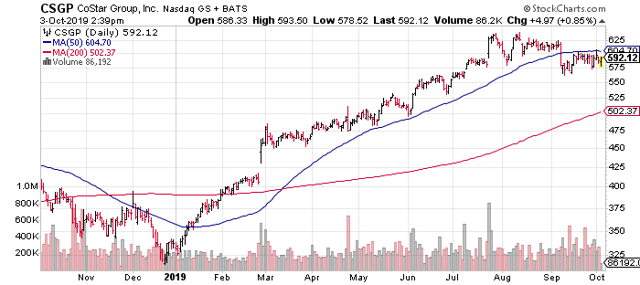 In addition to outperforming the S&P 500 over the last 10 years (31.0% to 11.3%), the 2019 chart has also been kind to CoStar Group for a majority of the year. CSGP began a very strong breakout in February, with the 50-day moving average crossing above the 200-day moving average in March. The chart began breaking down at the beginning of September, eventually finding support around the $570 level.
The new support of $570 for CSGP is a healthy sign from a technical perspective and the stock is poised for another breakout if the price can get above the $604.70 50-day moving average. I am personally watching this one very closely.
I remain "Very Bullish" on CoStar Group and am eager to see what their plans are for the STR acquisition. My liking for CSGP is evident by my 5-year price target for the shares. The $1,096 (+76% over the recent closing price) 5-year price target is supported by the belief that CoStar can continue to capitalize on the the competitive advantages setting them apart from their competitors. A strong Balance Sheet coupled with CSGP's ability to execute accretive acquisitions will continue to drive sustainable EPS growth for the foreseable future.

Losing sleep over your stock portfolio? Maybe you are not buying Best Stocks Now. These have both momentum and valuations with 80% or more upside potential. 
Bill Gunderson has been a professional money manager for 22 years. He is seeking alpha daily in the market for you. 
Subscribers get access to Bill's database of 5,300 stocks, funds, and ETFs, live trading alerts, and a weekly in-depth, market-timing newsletter with 4 portfolios. This will jump-start your quest to reclaim those Zs and alpha!
From Dividend to Emerging Growth portfolios, Bill has you covered.
Click here for a free trial of Bill Gunderson's Best Stocks Now service.
Disclosure: I am/we are long CSGP. I wrote this article myself, and it expresses my own opinions. I am not receiving compensation for it (other than from Seeking Alpha). I have no business relationship with any company whose stock is mentioned in this article.
Additional disclosure: I collaborated with my Gunderson Capital Management colleague, Barry Kyte Jr., CFA, on this article.